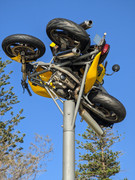 as seen on a low doorway lintel a long time ago, far, far away - "be kind to your mind"
Did you have a welder for your birthday



Chris.
Original CCT's. It's simply a matter of time....
It's not falling off, it's an upgrade opportunity.
Site Admin
Posts: 748
Joined: Mon May 20, 2002 9:56 am
Location: Aberdeen (Scotland - UK)
Contact:
What a waste of a couple of original 1990's Ducati Monsters.

Al.