Took the bike out last Saturday on a 180 mile round trip. Was faultless except for when I noticed the speedo acting up. It was fluctuating, noticeably at 40+ mph up to 90ish. At first I assumed it was the speed sensor, and it probably is so thats going to get changed, but after digging on the forum over the last few days, I'm starting to go for the reg/rec as a strong possibility. I wasnt aware the speedo fluctuations may be a sign of a degrading reg/rec... I've been reading the excellent thread from VTRdark explaining how to test the charging system.
Going through the tests step by step, I have a fully charged lithium battery showing correct voltage of 12.9v with ignition off. Ignition on, lights on, voltage drops very slowly as expected but only to about 12.4v
At the next stage with lights on and engine running at fast idle, I'm getting a steady 13.6v so the battery is getting a charge BUT when revved higher the lights do not brighten and the volts do not rise, infact they drop by a few decimal places to 13.4v. Also, quite worryingly the reg/rec gets quite warm, not really hot to touch but hot never the less. How hot is acceptable? I assume needing fins to dissipate heat I'd expect quite warm?
The bike has SH693-12 rectifier fitted to a standard 5 pin connector block. When I googled it it says from a CBR600/900 which according to later posts (in particular the list that AMCQ shared) in 'Beast's' thread is a satisfactory Honda replacement as it's one of the upgraded finned ones.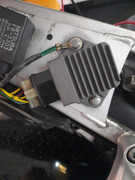 So... advice and thoughts on where to go from here. Do you think I'm on the right track suspecting a degrading unit? Should I go for a used R1/R6 reg/rec and hope it's good still, or buy a like for like replacement for the one that's fitted at the moment as they're readily available for about £20 new. Like i said, trying to source a speedo sensor anyway as that seems most likely. Cheers for the advice, Mick