Just bought my second VTR. This one is more of a project though as it's a bit rough.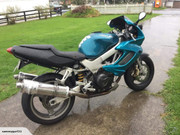 The cans are fubar'd so will need replacing or remaking, the bodywork isn't too hot so a change of colour will probably happen whilst it's being done.
It will get braided hoses as a matter of course.
I'd like to street-fighter it but VTR's usually look strange with the side-mounted rads though I suppose I could put one big one up front.
Keep tuned. There will undoubtedly be some uber-clever fab-work along the way as it's a stablemate for my twin-turbo '38 ford project:
https://www.facebook.com/mk1gasser/